Two-Year Funding Agreement Aims at Empowering Women, Improving Work Environment
ISLAMABAD, November 7, 2016: Her Excellency Mrs Jeannette Seppen, Ambassador of the Kingdom of Netherlands to Pakistan, visited the offices of Trust for Democratic Education and Accountability-Free and Fair Election Network (TDEA-FAFEN) on Monday and signed a 2-year funding agreement related to women's actions and provision of enabling work environment for them.
The program titled "Women's Action for Better Workplaces in Pakistan" is aimed at mobilizing, organizing, capacitating, and facilitating women working in public and private sectors to advocate for improved working environments through better enforcement of reforms in the policy and legislative frameworks governing labour relations in Pakistan.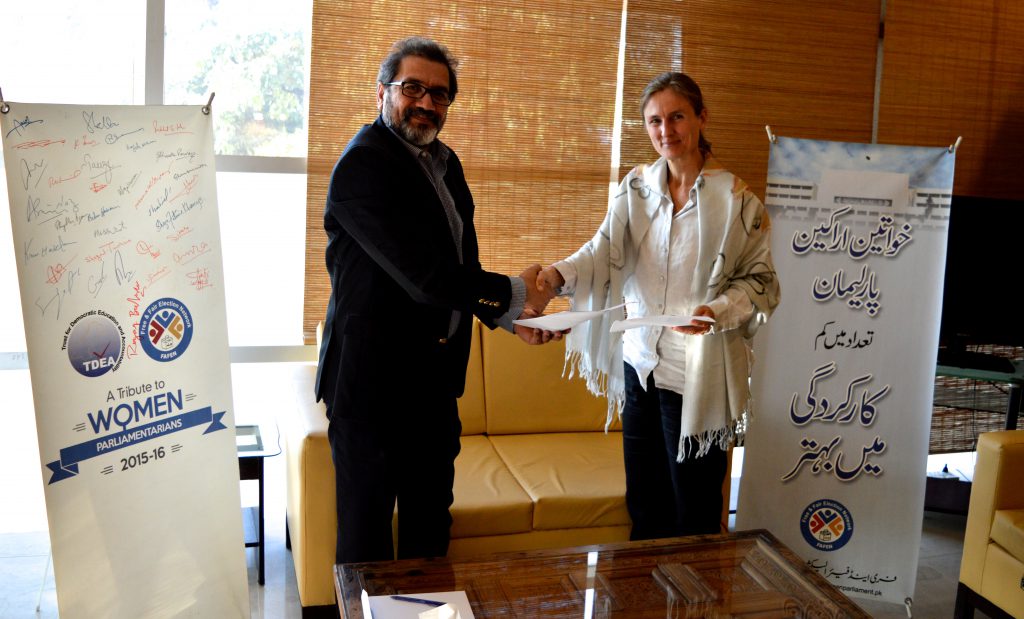 Mr Shahid Fiaz, the Chief Executive Officer (CEO) of TDEA-FAFEN, received the Honorable Ambassador at the office premises and introduced her to the staff. The Ambassador exchanged greetings with the employees and expressed the hope that the relationship between the Netherlands Embassy and TDEA will not only go a long way but prove to be fruitful and productive in the days ahead.
The CEO reminded the Honorable Ambassador of the Dutch Embassy's support to FAFEN during the nascent days of the civil society network. He also gave an overview of the organization, and briefed the honorable guest about the core thematic areas of TDEA-FAFEN. The Ambassador expressed her keen interest in the areas of electoral and parliamentary reforms.
Ambassador Seppen said that her government is trying to make a push in this region for serious improvement in labour and textile sectors. She also highlighted labour rights issues, focusing on labour conditions through initiating social programs internationally. She said that the Dutch government has initiated an accountability fund, and helping women is part of that fund. The Ambassador also stated that if a provincial assembly was passing a new rule on women empowerment, it is expected that other provinces would also learn from it.
Shahid Fiaz said that it is important to provide enabling environment for women to work in an organization. More than 80% women doctors leave their profession after their marriage. A huge investment is made on them, but it is not being utilized properly. He said there is huge class difference in the rural and urban areas, as minimum wages are given to women employees whereas the domestic workers get no benefits.
The Women's Action for Better Workplaces project will work in Islamabad and all four provincial capitals – Karachi, Lahore, Peshawar, and Quetta. The project will directly benefit about 50,000 women workers in public, industrial, and services sectors. The project will not only benefit the targeted women employees but will also have a multiplier effect on the female workforce in other areas.