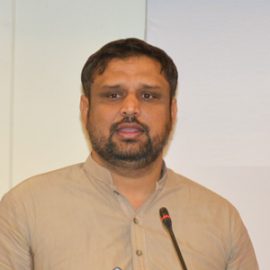 Rashid Chaudhry |
Deputy Chief of Party
Mr. Rashid Chaudhry has over 17 years of experience working on development programs in Pakistan, including 12 years working on USAID and other international donor-funded activities in a leadership capacity. He holds a Master's Degree in Mass Communication, and is currently serving as Deputy Chief of Party for AFGP — a USAID funded program that awards grants to key impact areas that the US ambassador prioritizes.
Mr. Chaudhry is an experienced project manager, and is skilled at planning, monitoring and evaluation, administration, grants management, reporting, and communications. Before taking up his position at the helm of the AFGP, he managed two DFID-funded projects for TDEA valued at GBP 3 million aimed at improving democracy and governance across 50 districts in Pakistan through a combination of grants, training, and technical assistance.
Before joining TDEA, he was Director of Programs for The Asia Foundation, where he managed TAF's role on two major USAID activities, the Gender Equity Program (GEP), and CVP. Additionally, Mr. Chaudhry helped manage a US $24 million DFID project entitled Supporting Transparency Accountability and Elections Program (STAEP) for TAF. STAEP was implemented across 98 districts in Pakistan with 33 major sub-grants, and had an impressive A+ final evaluation rating. Mr. Chaudhry's areas of interest include governance, elections and rural development.
Job Description
Disclosures